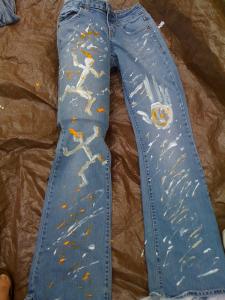 SEATTLE, WA - Our popular northwest Artist, @KarlReidArtist is releasing his new line of painted jeans.

From Wikipedia.."In a famous 1952 article in ARTnews, Harold Rosenberg coined the term "action painting," and wrote that "what was to go on the canvas was not a picture but an event. The gesture on the canvas was a gesture of liberation from value — political, aesthetic, moral."

I've captured that in these pants. I used white, yellow, paler blue and a sea foam green, coupled with the faded denim it creates a very calming color scheme for such "ACTION"...Enjoy! -Karl Reid Artist

In addition, the Artist has combined, petroglyph's (ancient rock art) with the action painting to created a whimsical theme. In this case, his petroglyph men are climbing up the leg of these size 3 pre-owned jeans... His theme is "Release the Inner Shaman" in you...

The artist is offering a mail-in service that allows you to take a pair of your favorite jeans and have...